There is no question in Howard Sternlieb's mind that the health care he and his family received at Massachusetts General Hospital could not have been better. That experience has inspired his loyal support for the MGH Fund across 30 years.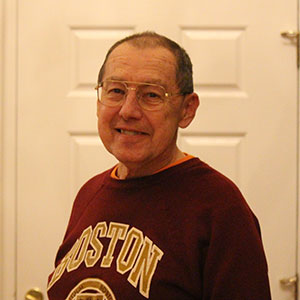 Howard learned early in life that a common illness can have devastating results. When he was four years old in Lynn, Massachusetts, his father died of a blood clot in his lung—a complication of kidney stone surgery at age 35.
The loss of his father convinced him, as he grew into adulthood and had children himself, to seek out top quality health care for his own predisposition for kidney stones at nearby Mass General.
"MGH wrote the book on urology," he says. "These guys are the best and I was lucky to have them only four stops down the Red Line," says Howard, 71, who worked for 26 years at Gillette Company, near the Broadway subway stop in Boston.
Riding the Red Line to MGH
"I would make my appointments at lunchtime and be back at work in the afternoon," Howard says. All told, he underwent nine successful operations at Mass General, mostly for kidney stones.
"MGH wrote the book on urology.These guys are the best and I was lucky to have them only four stops down the Red Line."
He once passed 17 kidney stones in a single year. "They are painful, I remember that," says Howard who credits retired MGH urologists Walter Kerr, MD, and Alex Althausen, MD, with his care.
Now, living in retirement in South Carolina with his wife Donna, he takes medications, originally prescribed at MGH, to control his condition. His annual donations to the MGH Fund reflect his satisfaction. The MGH Fund provides unrestricted funding for a wide range of programs and research at Mass General and supports the hospital's world-class patient care and landmark advances in medicine.
"We are grateful that Mr. Sternlieb recognizes what we hope all our patients know," says MGH president Peter Slavin, MD, "That MGH provides lifelong, top-tier medical care from childbirth, through pediatrics and adult medicine, all the way to end-of-life care with an emphasis on quality of life every step of the way."
A Family Finds a Healthcare Home
During his decades in the Boston area, Howard and his family were regulars at Mass General. "They saved my wife's life," with an emergency surgery in 1982, he recalls. Two of his three grandchildren were also born here.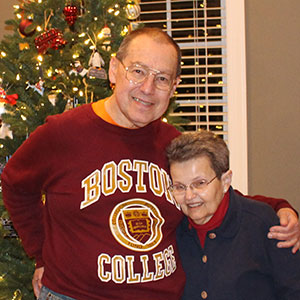 Even his professional career brought him in contact with Mass General. MGH staff provided guidance to him as he wrote his master's thesis at Boston College on the role of computers in hospital systems. MGH was a pioneer in developing computerized medical information systems.
His MBA complete, Howard went to work in information technology at Gillette in 1974. "Name anything in computers, and I did it," he recalls. Regular trips up the Red Line brought him to Mass General for all his healthcare.
For several years, he was particularly pleased to have, as his primary care physician, endocrinologist John Potts, MD, who was chief of Endocrinology at time and later became Mass General's chief of Medicine. "He was one amazing physician," Howard says.
Surgery for Kidney Stones
Howard's kidney stones continued to plague him. His urologists, Drs. Kerr and Althausen, operated several times to remove them. "I was in the operating room so often I was on a first name basis there," Howard says. There is now an endowed chair at Harvard Medical School in the name of Dr. Walter Kerr, who died in 2013. Dr. Althausen is retired.
In 1981, Howard developed a small benign cyst on his chest. An MGH surgeon, Paul Russell, MD, removed the cyst. A few weeks later, in the waiting room for his follow-up visit, Howard told the receptionist he thought Dr. Russell did "a pretty good job."
As Howard recalls it, she replied, "I hope so. Do you know who Paul Russell is? He's the chief of Transplant Surgery!"
Howard says he was humbled to learn that the man who removed a harmless cyst from his chest is the renowned transplant surgeon who performed the first kidney transplant at MGH in 1963 and founded what is now known as the New England Organ Bank. A Harvard professorship is named in his honor as is the Paul S. Russell, MD, Museum of Medical History and Innovation at Mass General.
Long-term Loyal Supporter
"MGH doctors take the time to listen to you. They make the time."
Even after moving to South Carolina for the warmer weather, the Sternliebs have continued to make annual donations to the MGH Fund. They have also contributed to leading-edge research in the Department of Urology. They hope others will join them in their support.
The key, as Howard sees it, is that MGH doctors listen to their patients. "They take the time to listen to you," Howard says. "They make the time."
Learn more about the MGH Fund or for more information on giving, please contact us.