Bryan Rafanelli likes to set goals. This year, the celebrated Boston-based event planner and generous supporter of the MassGeneral Hospital for Children, has two goals: finishing the Boston Marathon in four hours and rallying his network of friends and family to be the top fundraiser on the Mass General Boston Marathon Team supporting children with pediatric cancer.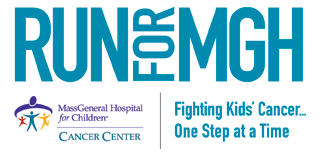 Neither goal will be easy. The heavy winter snow has been one challenge for Bryan, a member of the MassGeneral Hospital for Children Advisory Council and long-time planner and contributor to the annual Storybook Ball. It has pushed him to seek out warm places to do his long training runs. A business trip to Istanbul, Turkey, in January, for example, found him running 12 miles through the city's colorful neighborhoods. Back in the states, he's taken advantage of business trips to warmer climates like Miami, Palm Beach and Washington DC.
The Gift of a Marathon
"For me to have a chance to run a marathon for MGHfC is a gift," says Bryan, who ran his first marathon last year, at the age of 50, for Mass General. The gift, he says, is to have the chance to do something that is good for his body and mind while, at the same time, raising money for a cause close to his heart.
Bryan, who has staged many high-profile national events including presidential inaugural balls and Chelsea Clinton's wedding, hopes to knock 10 minutes off his time of 4 hours and 10 minutes from last year's Boston Marathon.
Reaching his second goal, being the top fundraiser on the Mass General Boston Marathon Team this year, may be even more challenging. In 2014, Bryan, with the support of friends and family raised $61,885, placing him second only to team captain Howard Weinstein, MD, chief of MGHfC Pediatric Hematology Oncology. "I'd love to beat Howard," says Bryan, issuing a playful challenge.
Dr. Weinstein, who raised $83,280 in 2014 and, with his team, has raised more than $10 million over the years, will mark his 25th year running in the Boston Marathon this year.
Team Captain Welcomes Competition
"I am thrilled to have Bryan aboard as such an enthusiastic runner and fund raiser," Dr. Weinstein says. "I wish him luck with his running and even more with his goal to surpass me in raising money for Pediatric Cancer for Mass General Hospital for Children."
Another group of MGH team runners will be running in support of emergency response and still other runners will participate in the Miles for Mass General program to support Cystic Fibrosis, Pediatric Palliative Care, the Lurie Center and MIND Huntington's Disease Research.
"It's interesting to me that you get to go out there and push your limits physically and people want to help you by donating."
For Bryan, who is relatively new to the game of fundraising by marathon, the idea that people want to give money to support his run for Mass General is exciting. "It's interesting to me that you get to go out there and push your limits physically and people want to help you by donating," he says. At an event at the White House recently, a photographer approached him to ask if he would be running in the Boston Marathon again this year saying he wanted to donate. "He said, 'I'm a Boston boy and I really appreciate what Mass General does,"' Bryan recalls.
In honor of Bryan's ongoing generous support for MGHfC, the hospital recently named a room for him in the newly constructed Pediatric Emergency Department. He recalls that when he went to see the new room named in his honor he thought, "It's amazing. I can't wait to bring my mother to see this."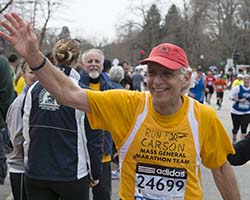 No Stranger to Emergency Rooms
Mr. Rafanelli, who grew up in a large family, said he is no stranger to emergency rooms and so he can relate to the children who find themselves there. "It was kind of a joke in my family, that when we went on vacation, I would end up in the emergency room or the doctor's office," he says, recalling various mishaps, minor injuries and even a mystery allergy that made him a regular visitor.
More Boston Marathons Ahead
Now that Mr. Rafanelli has caught the bug for running and fundraising, he sees it as an important part of his future.
"I feel an obligation to do this again," he says, explaining that he is deeply moved by the people who support his run with donations and that "I'm glad I can rally my friends and colleagues to support Mass General and do it by running the Boston Marathon. That's the easy part."
Support Bryan's run for pediatric cancer. Or, for more information about Mass General's Boston Marathon Team, contact us.