With his heart failure growing rapidly worse, a four-year-old boy from the Dominican Republic, named Josmaily, could not run and play with other kids. But two weeks after his urgent heart surgery at MassGeneral Hospital for Children with the support of the David Ortiz Children's Fund, he happily trots along, ready for fun.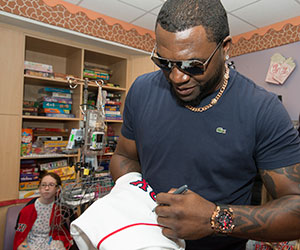 In October, Josmaily Luzon Cruz appeared for a heart evaluation before Oscar Benavidez, MD, MPP, chief of Pediatric Cardiology and director of the Pediatric Heart Surgical and Catheterization Program, at MGHfC.
The tiny boy with a sweet smile had originally come to Boston with his parents for treatment of scars resulting from a severe burn he had sustained two years earlier. But when the burn treatment doctors listened to his heart, they heard trouble. They sent him to Dr. Benavidez. The MGHfC Pediatric Cardiology Program provides comprehensive, state-of-the-art diagnosis, treatment and long-term follow-up care for infants, children and adolescents with all types of acquired and congenital cardiac conditions.
Facing Multiple Health Problems
"I was alarmed by his heart condition when I first met Josmaily," Dr. Benavidez says. Josmaily had an abnormal tricuspid heart valve that was causing heart failure. That meant the blood could not move easily through his heart and was backing up and "sloshing back and forth in a very harsh way," Dr. Benavidez explains.
His parents had known about Josmaily's heart condition but the poor public hospital they go to in the Dominican Republic could offer no solution, says Jose Luzon, Josmaily's father. Josmaily was so weak that his parents usually carried him or pushed him in a stroller.
Fear and Hope for a Boy's Future
Hoping to get treatment for Josmaily's burn scars, the family found funding to travel to Boston. They were aghast to learn that their son's heart failure was so severe he could not go forward with the planned procedure for his burns.
"I was really scared," Jose says, "but I hear this hospital is very special for this kind of heart problem." For his life to be saved, Josmaily needed open heart surgery to repair his defective heart valve and prevent heart failure.
"We had to move quickly," Dr. Benavidez says. The surgery team, under Dr. Benavidez' leadership, gave Josmaily general anesthesia, opened his chest and then his heart. To repair this heart defect they stopped his heart and connected Josmaily to a heart-lung machine.
"We can't operate inside of a beating heart," Dr. Benavidez explains. "And that makes use of the cardiopulmonary bypass machine essential." They peered into Josmaily's open heart to find the problem.
A Rare Cause of Heart Failure
They discovered that Josmaily's valve defect was a rarely seen abnormality. The surgery was challenging. Operating on one part of the heart valve affects the rest of the heart as well. One possible problem, damage to the heart's electrical system, could cause an irregular heart beat or the need for Josmaily to use a pacemaker for the rest of his life.
Two weeks later, Josmaily has a spring his step as he follows his father down the hallway to visit Dr. Benavidez.
But, a highly skilled and prepared team was with Josmaily that day to see him through this challenge. The surgery went smoothly and without complications. Five days later, he was able to go home with his parents to a temporary apartment arranged by an MGHfC social worker in the Charlestown Navy Yard.
Two weeks later, Josmaily has a spring his step as he follows his father down the hallway to visit Dr. Benavidez. The stroller stands in the corner.
"He's really doing great," Dr. Benavidez says, as Josmaily sits in his father's lap smiling. "This is exactly the outcome we hoped for. His valve function is basically normal. His heart is still a little weak at this point but it continues to grow stronger. I have high hopes for Josmaily."
Asked about his son's new ability to walk and run, Jose says: "He does not want to run, he wants to fly!"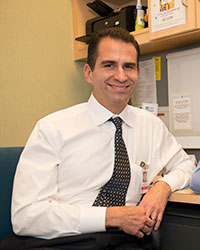 Helping Children with Heart Disorders
The David Ortiz Children's Fund, which supported all aspects of Josmaily's heart care at MGHfC, specializes in care for children with congenital heart disease. Other examples of children who have benefited from the fund at MGHfC include babies born with large holes in their hearts, adolescents who have collapsed on the athletic field because of life threatening congenital heart lesions, and children who require emergency mechanical heart support because of heart failure.
"The partnership we have with the David Ortiz Children's Fund is critical for us to fulfill our mission in caring for children with complex and dangerous heart disease," Dr. Benavidez says. "My Pediatric Heart Surgical Program and our families are enormously grateful for the generous support. We look forward to the work that we do."
Josmaily's face and his father's both light up when the name of David Ortiz is mentioned. Placing his hand reverently on his chest, Jose says, "I keep him in my heart and my mind because he has been so good to us."
To make a donation or to learn more about the Pediatric Cardiology Program at MassGeneral Hospital for Children, contact us.