At least three times a year, Mass General gynecologic oncologist Annekathryn Goodman, MD, travels to Bangladesh to give women there the same chance of reducing their risk of cervical cancer as women in Boston have.
"Cervical cancer can be identified before it becomes cancer through screening," says Dr. Goodman. "That's a very doable proposition in the United States or in Western Europe where there are lots of doctors and nurses and supplies and sinks with running water. In places where there's less of that, it's quite a big challenge."
In part because of this lack of preventive care, cervical cancer is the second leading cause of cancer deaths in Bangladeshi women. More than 50 percent of those diagnosed with the disease will die from it. In contrast, cervical cancer ranks 14th in frequency of cancers affecting U.S. women, with a five-year survival rate of nearly 75 percent, according to the National Institutes of Health.
Collaborating with Bangladeshi Women
Since 2008, Dr. Goodman has worked to reduce these disparities in cervical cancer prevention and treatment as part of Mass General's efforts to extend medical advances to people around the globe. Although she describes her role chiefly as educator, trainer and adviser to Bangladeshi physicians, Dr. Goodman has been instrumental in establishing a cervical cancer screening program in Korail, the largest slum in Dhaka, Bangladesh's densely populated capital of more than 14 million.
Dr. Goodman and her Bangladeshi colleagues recruited local women to serve as community health workers in the Korail clinic.
For the past 50 years, routine Pap smear screening, the collection of cell samples from the cervix, has reduced the incidence of cervical cancer by almost 80 percent in developed countries. However, a Pap smear requires not only a physician to perform the procedure, but also a pathologist to analyze the samples. In the case of an abnormal result, a patient must return for further examination and treatment. This multi-step clinical process is costly and difficult to implement in low-income countries with low health care literacy like Bangladesh.
"People don't necessarily understand what a cervical cancer screening is," Dr. Goodman says. "There's actually no word for vagina in Bangla (the Bengali language). You talk about the place where the baby comes through. It makes you understand that it's not intuitive to do a vaginal examination."
 An Alternative to the Pap Test
To overcome these linguistic and cultural barriers, Dr. Goodman and her Bangladeshi colleagues recruited local women to serve as community health workers in the Korail clinic. During a three-month training, the women learned to perform pelvic examinations using a low-cost, highly accurate method requiring just the naked eye and a swab of diluted vinegar applied to the cervix.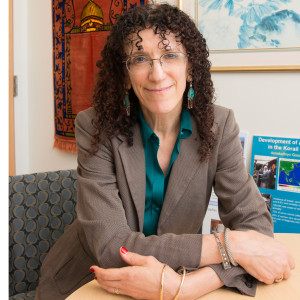 Areas of the cervix that turn white after the solution's application indicate precancerous cells. Clinic patients with these results receive treatment on the spot, either by freezing the affected tissue or by cutting it out using a heated surgical instrument. This see-and-treat approach relieves the patients of repeat visits, for which many might not return.
"These nonprofessional workers are people that the community trusts and will go to see," says Dr. Goodman. "Although they don't have a formal education, they are smart and they're very skilled. It's been really fun to train them." Dr. Goodman reports on her work in an article published in the Open Journal of Obstetrics and Gynecology.
Women diagnosed with invasive cancers at the clinic are referred to the local hospital. Unfortunately, though, resources are limited, which magnifies the importance of Dr. Goodman's early detection efforts.
Advancing Cervical Cancer Screening through Education
In the future, she would like to bring physicians from Bangladesh, as well as other countries, to Mass General for several months to broaden their knowledge.
Apart from assisting at the Korail clinic, Dr. Goodman spends a great deal of her time in Bangladesh continuing the education and training of physicians there in cancer care. Although the country boasts a number of medical schools and hospitals, no formal cancer training program exists. In the future, she would like to develop a program that enables physicians from Bangladesh, as well as other countries, to spend several months broadening and deepening their knowledge at Mass General.
However, Dr. Goodman does not view the Mass General relationship with Bangladesh as one-way. As director of the Gynecology Oncology Fellowship Program, Dr. Goodman regularly invites MGH residents and fellows along on her trips. By exposing them to the stark contrast in conditions between the United States and Bangladesh, she hopes they will gain valuable experience in working in low-resource settings and learn they can make a difference in the lives of thousands by sharing knowledge and expertise they often take for granted.
Support MGH Global Initiatives
Today, Mass General has 60 global health programs in 40 countries. These programs rely on your support. To learn more about how you can help, please contact us.