Seventy years ago Massachusetts General Hospital emergency staff fought hard to save the victims of the deadliest nightclub fire in U.S. history at Boston's Cocoanut Grove nightclub. But even with the then-revolutionary approach to burn care, someone with burns covering more than half of the body had only a 50/50 chance of survival.
"Today, at verified burn centers like ours, we don't really worry about death from burns of that type," says Shawn Fagan, MD, medical director of the Sumner M. Redstone Burn Center. It takes a massive burn over 95 percent of the body before there's only a 50/50 chance of survival, because medicine has evolved, he explains.
"Our attention is now focused from day one on restoring functionality and cosmetic appearance," says Dr. Fagan. "Ours is a program for burn recovery. Our goal is to get our patients back to where they were before the injury."
At Mass General's Sumner M. Redstone Burn Center and its component, the Lester and Nancy Fraser Outpatient Burn Center, the goal is to heal both the physical and emotional wounds caused by burns. A multidisciplinary team treats patients who have been injured by fire, scalding water, chemicals or electricity as well as patients with degenerative skin disorders typified by the loss of skin and open wounds.
Mass General's burn-care team is one of the few nationwide that includes a psychiatrist, as well as nutritionists, speech therapists and make-up specialists.
Mass General's burn-care team is one of the few nationwide that includes a psychiatrist, as well as nutritionists, speech therapists and make-up specialists. They work together with the team's burn and reconstructive surgeons and experienced nurses.
"Replacing skin to close the wound is only the beginning of many techniques we use to, first, prevent infection, and, then, to make the scars less noticeable," Dr. Fagan says. One way to do this is to use laser surgery, one of the treatments that Mass General is leading the way on in its effort to improve patients' lives.
Burn care has improved dramatically, in a large part through Mass General's leadership in the field. Mass General has contributed:
Better ideas that came from research about how to surgically treat patients with major burns. This includes the concept that damaged tissue should be removed and the wound closed as quickly as possible, which was championed by the late John Burke, MD, who established the Mass General Burn Research Center and is known for co-developing artificial skin.
Better treatment for metabolic responses to traumatic injuries like burns. Mass General researchers have helped understand why and how to stop such responses to trauma as the loss of lean muscle, insulin resistance similar to diabetes and the misbehaving of mitochondria, the energy-producing factories of cells. Much of this work occurred in the 1970s and 1980s in the field of biochemistry. The advent of advanced genomic tools and better understanding of the genetic response to injury brings great promise for developing new interventions.
Better techniques for infection control. The body's uncontrolled immune response to a traumatic injury like a burn can result in a body-wide infection or failure of critical organs. Many of the recent insights and promising new treatments are the result of the research efforts of Ronald Tompkins, MD, ScD, chief of the burn center. Dr. Tompkins is renowned for his work in this area of immunology and inflammation. Recently, he led a trial involving several centers that produced what he describes as a treasure trove of insights about abnormal patterns of gene responses triggered in immune cells.
Despite dramatic improvements in overall patient survival, challenges remain. Elderly patients do not fare as well as the young, and much is still not understood regarding how the body reacts and recovers following traumatic injuries. This is why Mass General's commitment to research remains so important.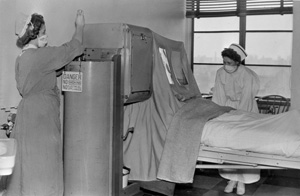 There are about 70 researchers in the Burn Center whose broad range of inquires include studying how wounds heal, infection, inflammation, biotechnology, bioengineering, genomics and outcomes research. Dr. Tompkins, a chemical engineer and physician, is among the top 10 recipients of research dollars in the country.
"Innovation and invention are important to us," says Dr. Tompkins. "Insights from our burn research have helped and will continue to help people with other diseases."
For example, a microfluidics device invented in the burn division for isolating cells of interest from a simple blood sample has been adapted to diagnose cancer, as a first trimester test for chromosome abnormalities in pregnant women and as a portable device to monitor aids patients in developing countries.
The work in the burn center during the past 70 years has advanced care here and around the world, says Keith D. Lillemoe, MD, chief of Surgery at Mass General. "Through both clinical advances and cutting-edge basic science research, the MGH Burn Team has, likely, had the greatest impact of any surgical research team in their field," he says.